Committee
Details

Last Updated: Tuesday, 01 October 2019 12:55
Bryan Aitken - Christchurch
President
This email address is being protected from spambots. You need JavaScript enabled to view it.
A former Associate Artistic Director and original company member of The Court Theatre, Christchurch, Bryan has worked as an actor or director for most of New Zealand's major Theatre Companies.
He has been awarded a QEII Arts Council Major Travel Grant, a Trustbank Arts Excellence Award, and the 1990 Commemoration Medal for his work with youth. While a director/dramaturg for the NZBC, he adapted many stage plays for radio and also wrote for children's programmes.
Bryan freelances as a Director, Tutor and Tour Manager. His work is as diverse as the magnificent Les Miserables to the one woman show The Mourning After. He was recently appointed Associate of The Court, an honorary position recognizing his length of service. He is an accredited adjudicator and has worked in England, Australia and New Zealand.
Lorna Ashton - Hamilton
Vice-President
This email address is being protected from spambots. You need JavaScript enabled to view it.
Lorna is honoured to be the recipient of Long Service Medals for both Musikmakers and Playbox in Hamilton. Only two people have this honour, the other being Mark Perry. Lorna also received the Theatre New Zealand Meritorious Service Award at the 2016 AGM in Invercargill.
Lorna spent some years in Canada working in community cable t-v and International Festivals, pleased to push the "Kiwi" side of life. She has worked in schools and libraries both here and overseas with reading programmes and drama classes. She was pivotal in establishing a branch of the Community Arts Council in Huntly. Nearly everything Lorna has done has been as a volunteer.
Lately Lorna has enjoyed putting her expertise and experience into directing. She particularly enjoys acting and directing for the One Act Play Festivals. She feels humbled to work with such talented people on the Executive.
David G Cox - Wellington
Treasurer
This email address is being protected from spambots. You need JavaScript enabled to view it.
Born and raised in Southampton, UK, David has been involved with community theatre for more years than he cares to remember and in a range of countries. Over the years he has been actively involved with Beckenham Theatre, Swanbank Theatre and the Hamble Players (UK); Canberra Repertory (Australia); Rawalpindi Amateur Theatrical Society "RATS" (Pakistan); and Suva Players (Fiji). In 1992 he was made "RAT of the Year" following a series of successful performances in Islamabad and in 2010 awarded the Best Actor Curtain Call Award for his performance as Charles Dickens in "Christmas Carol".
He moved to Wellington in 2011 since when he has been seen on stage in a variety of plays and musicals with Stagecraft, Wellington Musical Society and Wellington Repertory. He has also turned his hand to directing. Being technically on the inept side of incompetent he is quite happy to pull things apart after a run but draws the line at twiddling knobs and wiring anything for fear of causing technical chaos.
He has been a member of the Stagecraft Committee and the Wellington District Committee since 2013 and joined the National Executive in 2016.
Margaret Robertson - Wellington
Secretary
This email address is being protected from spambots. You need JavaScript enabled to view it.
Margaret has been involved in theatre administration for a very long time. She started outas secretary of Khandallah Arts Theatre in Wellington for 13 years, followed by the same
number of years as President. In fact she has been on KAT's committee all her adult life.
In the eighties she became involved in the wider theatre scene stepping up onto Standing Committee of New Zealand Theatre Federation for monthly meetings at 127 Cuba Street
where she took a special interest in the May Ives Library, spending a day a week there helping. That lead to involvement in Wellington District and the National Executive and she has been a member of both serving as secretary most of the time since. She was editor of
Backchat for 15 years.
As well as administration Margaret has acted, directed and done the myriad of jobs that theatres need to have done: publicity, front of house, props, painting, production and stage management, wardrobe and makeup but she left lighting and sound to the more technically able. She says she has found that attendance at workshops on all these
aspects of theatre over the years has been most beneficial.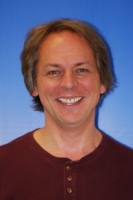 Steven Arnold - Auckland
Committee (immediate past President)
Steven is a theatre loving teacher, who lives in Auckland. His theatre qualifications include: Accredited Adjudicator; ANZDA; NZTF Council Member; BA in drama from University of Canterbury; LTCL – Teaching Speech and Drama; LSB – Performance in Speech and Drama; ASB – Public Speaking; Grade 8 – Choral Speaking.
Steven has worked as a director, actor, and backstage with the technical crew. He adores the moment just before his first cue; the lights, the music, the tension! It is wonderful to have a hobby that attracts so many creative people. Curtains up everybody, its story time! It is so much fun.
Ewen Coleman - Wellington
Committee
Actor, Tutor, Director, Administrator, Adjudicator, Ewen has been involved in Theatre in some form or other for most of his life.
Since 1980 his main theatre focus has been directing productions of various kinds and has worked with all the major recreational theatre groups around the Wellington Region.
He has been an active member of Wellington Repertory Theatre since 1976, twice being President and currently the Theatre's Secretary.
As an accredited adjudicator he has been adjudicating since 1986 and has adjudicated NZ Theatre Federation District Festivals around NZ most years since as well as a number of Regional and National Final Festivals. He has attended a number of International Theatre Festivals and Conferences overseas representing NZ and adjudicating including being invited to take a production to an International Theatre Festival in Japan.
He is past President of ANZDA – Association of NZ Drama Adjudicators and Theatre NZ.
He began Reviewing for The Evening Post in 1993 and has continued with The Dominion Post from 2002.
Mark Perry - Hamilton
Committee
Mark has been involved in live theatre since 1991 were he started as a stagehand for a play. Since then he has been involved with many aspects of theatre (lighting design and operation, sound design and operation, props, stage manager, bar manager and set construction, to name a few) in productions too numerous to count. It is not unusual for Mark to be somehow involved in most (if not all) productions at Riverlea Theatre.
Mark has been the recipient of Life Memberships to Hamilton Playbox and Musikmakers Hamilton, one of two people who have this dual honour (the other being Lorna Ashton). Mark received a MTNZ Merit Award in 2012 and he also received The David Brockett Award For Backstage Achievement at the 2016 TheatreFest Finals in Invercargill. In December 2017 Mark received a City of Hamilton Civic Award "for outstanding contribution to Hamilton with services to the arts and the community".